Big Dog Names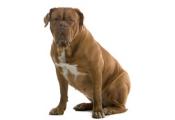 Naming your dog is an important first step in creating that special bond. Finding the right name is even more important. Get creative, make it original! If you own a large dog, there are many different roads to take to naming your best friend. If you have a large breed such as a Saint Bernard, Great Dane, or Mastiff, you can take the popular route and name them something appropriate to their size, such as: Titan, Bear, Zeus, or Thunder. All these things intensify their size and mass.
However, if you want to get creative, you can take a big dog and name them something cute or playful. For example, if you've got a large dog with long legs, how about something to do with long legs? Basketball names go well with male dogs or male owners - Hoops, Strider, and Magic (or any other famous basketball athlete's name). Female big dog names can come from other languages to pay homage to size and strength: Elsie (noble), Brava (brave), or Dagmar (glorious).
Other great names for big dogs can come from big landmarks like mountains (Kili (short for Kilimanjaro), Fuji, Everest, K-2, to name a few. Big dogs are great companions, so really spend some time finding the right name for your four legged friend. Keep in mind, though, that shorter, two syllable names work best, according to experts.