Indian Dog Names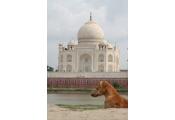 India's culture has had a love/hate relationship with dogs for centuries. On the one hand, the Brahmins designated dogs as "unclean" even as the dog was a widespread and popular pet. However, one form of Shiva, Bhairava actually takes the form of a dog. In fact, this vital god of transformation often used dogs to help in his quest to transform the world.
Each Indian dog name has a powerful definition that you should consider before picking it as your dog name. For example, the male dog name "Jeevan" refers to "life" or "soul" concepts which are vital to Indian culture and religion.
Our extensive list of Indian dog names includes the ability to rate each name, comment on the name, save it to a favorites list or even upload a photo of your dog. Please make sure to avoid confusing "Native American" with Indian. Our list of Native American dog names is extensive and varies widely from this list.