Sled Dog Names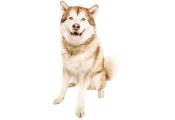 Sled dogs are a hardy breed which loves the cold. Brought into this world ready to run, they have an unmatched tenacity that makes them capable of withstanding hours of strenuous activity under brutal winter conditions. These rugged canines have no fear of danger, will charge through open wilderness with unyielding abandon, and still have time for a hug and a smile when it's all over. You can't name a dog like this Fred or Lacey. And, Gertrude is way off! You need a name inspired by the natural world and all the elements in it.
We have the names that sled dogs deserve. We have a list of thousands of unique sled dog names that inspire courage, warmth, and the free spirit that truly embodies these incredible hounds. These names should work great for sled dogs or any other dog for that matter. Many of the names are from movies or are Alaskan dog names. Balto is the most obvious name for a sled dog, but we have also included a few that you may not have thought of.
Browse the list and take the time to tell us your favorites by using the rating system. Or, if you come across and idea of your own, make your suggestions to us. We'd love to hear from you.