Cartoon Dog Names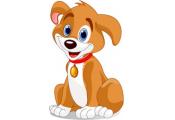 We offer a variety of cartoon names for your dog. Find old favorites like Bruno and Odie or discover new names such as Jungle Jim and Petunia Pig. We have classic and contemporary cartoon dogs listed in our archives. No matter what you grew up watching, you can find the perfect dog name using cartoons as inspiration.
Start browsing our cartoon dog names section and you'll be howling in your chair from these whacky monikers. You can sort them by gender, making it easier to refine your search. Once you find a name you like, click on it, and you view the meaning. You can also post your dog stories and share pictures of your dog. You can even find someone who owns a dog with the same name as yours!
Have fun when you choose your dog's name. If you have a big dog, then you may want to try a tough name like Astro. If you have a small dog, then consider a name like TinTin or Buttercup. Whatever you choose, it will stick with your dog for the rest of their life. Choose a name it can wear with pride! Show your dog you love it by giving it a clever, memorable cartoon name.