African Dog Names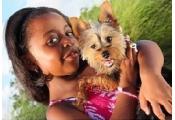 Africa has a wide range of cultures that differ from each other in many extensive ways. A person with an interest in African cultures can spend their whole lives studying them. One way to celebrate your love of Africa is to find an African dog name that suits your dog.
Don't jump into the naming process without researching each name thoroughly. Many African dog names will be unfamiliar to people that don't know African culture. Each name may mean something specific to different regions.
Start by making a list of the names you like and find out how to pronounce each one. Research the culture from which each name originates. This is useful for finding out the meaning of each name. For example, "Tanith" refers to an Phoenician moon goddess.
Rate any name on our list by using the five star scale system. Click on the "heart" next to each name to save it to your favorite list. Use this favorite list to arrange your favorite African dog names.