Cool Dog Names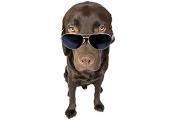 So your dog thinks he or she is pretty cool? Well, they need a cool dog name to fit that personality of theirs. There is no limit to the number of names that could be used for your pet because it is hard to define cool. With so many to choose from, we have taken some time to compile a huge list of the coolest names and then we picked our favorites.
Continue below for our long list of cool dog names for boys and girls. Rate the ones that you think are the coolest and please submit your own ideas.
Did you find a name you like?