Female Dog Names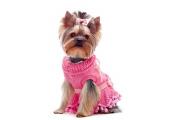 Perhaps your new dog is very girly and deserves a name fit for a princess or perhaps she needs one that is a little less feminine. Either way, we have spent many hours compiling a list of the top female dog names out there to make things easier for you. Our list contains thousands of cute female dog names and their meanings.
Some of the names may resemble human names but that is okay because many people like to use more common human sounding names to make their little gal feel like part of the family. We have also tried to include all of the standard popular girl dog names. You might also want to look to other dogs for inspiration. How about Gidget, the name of the famous Taco Bell Chihuahua. Or maybe a celebrity's dog's name. Actress Sandra Bullock's pooch is named Ruby.
Continue on to our extensive list of female dog names below for more naming ideas. If there are too many to choose from you may want to check out one of our more focused categories like small or cute names. Use the suggestions to help you pick the perfect one or to invent your very own.