Tough Dog Names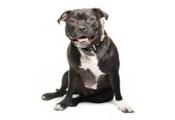 If the first thing you thought when you saw your brand new dog was, "man this pup is hardcore!" you'll probably want to start brainstorming some tough dog names for him ASAP. You know, like Spike (who might be a little cross-eyed but still fully focused on being mean), Killer (self-explanatory) or Brutus (he's the neighborhood bully).
We can help you figure out some unique tough dog names at FunDogNames.com. Below we've compiled pages of dog names that would probably fit your new furry but ferocious friend perfectly. After a little browsing you'll probably see one that stands out.
There's little worse than having "dog name regret". Don't let your new pup get used to his new name and then later decide that you just don't like it anymore. You'll confuse him too much. Instead, cruise through our database first and take your time picking a name that's just right.
So if you've got a dog that makes people cross the street when you're walking him, check out these tough dog names. But before you pick one, you might want to observe your new friend for a while. You might find out that all that toughness is just a front -- if he likes to play with kitties he might be better off with a cute little name like "Buttercup".