Japanese Dog Names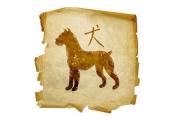 Are you looking for a loyal and honorable companion that will stand by your side through thick and thin? Finding the right dog for your lifestyle can be difficult, but after you've found your perfect fuzzy sidekick, picking the perfect name can be just as hard! Luckily, we can help. Feel free to browse through our list of Japanese dog names.
If your dog is calm and wise, perhaps Lotus is an apt choice. We have thousands of fun dog names for all different breeds, genders and categories. Search for male or female Japanese dog names with our name filter, or simply go through the list and rate the names you like the best. If you stumble across a name you really like, click the small heart icon to save that name to your favorites list. We have so many fun dog names to choose from that you'll want to narrow down a list of favorites before you decide. Check out our list, and have fun!
Did you find a name you like?