Irish Dog Names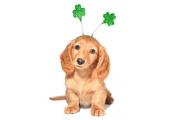 Ireland has used dogs for centuries for a variety of practical purposes. The Irish Water Spaniel was trained specifically to get water fowl from rivers and lakes. Others, like the Soft Coated Wheaten Terriers were designed to hunt rodents and herd animals. These sturdy, hard working dogs deserve an Irish dog name that reflects their personality.
Check out these popular Irish dog name:
Aralt- A male specific name which means "leader."
Berkley- Refers to a birch tree meadow.
Bowie- A reference to popular singer "David Bowie."
Bridget- This name refers to the Celtic goddess of fire and poetry.
Picking the right Irish dog name depends on your dog's personality. Is your Yorkie a bossy pup? "Aralt" may work for him. A peaceful and mellow dog may benefit from a peaceful name like "Berkley." Read through our extensive list of names until you find the right one for your dog.