A Dog Named Axel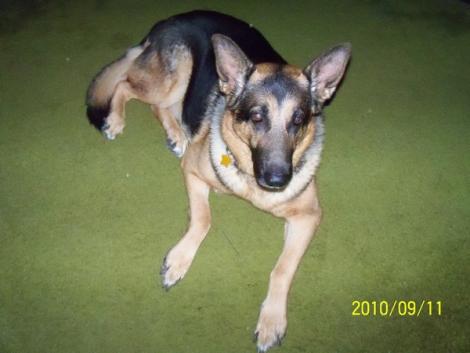 Tell us a little about your dog:
My male GSD was adopted by me from the dog pound after his owner failed to recover him after being arrested. He was named Rain, but did not like to be in the rain at all. So, I decided I would use the name Axel again. He loves his new name and still dislikes the rain!
Why did you pick this name?:
Two days before I picked up a new German Shepherd pup I took my 1973 Plymouth Barracuda into the shop for new rear wheel bearings. The mechanic tried to tell me that I needed a new axle, I told him install the wheel bearings and the slack in that axle would disappear. Then I went and got the pup. I pulled out baby name book, opened it to German boy names, and guess what was there? AXEL!!! It means "Father of peace". GSDs are peace keepers in many ways. The name fit the situation and I liked it. I have Axel II now. Love the name so much I used it again a decade later.