Boston Terrier Names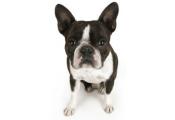 The Boston Terrier is considered by many to be the Gentleman of dogs, and for good reason. A properly trained and socialized Boston Terrier should be very well-mannered and bark only when absolutely necessary. This breed is known to be very aware of its humans, which combined with its tendency to not bark make it a great apartment dog, especially for the elderly. These small dogs deserve a big name with lots of attitude and meaning. For this we would recommend a prestigious name such as Samuel, Adams, or Harvard. One other thing to take into account when naming your Boston Terrier is its short snout and the wheezing and snoring this breed produces as a resolute of it. This opens up more options for names such as Wheezy, Sniffles, or even Sleepy. Whatever name you decide to use, just make sure it fits your Boston Terrier's personality, so the whole world will know how special your dog really is.
Did you find a name you like?