Celtic Dog Names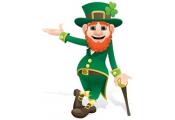 Celtic dog names come from the ancient Celtic culture that still survives in the northwest tip of Europe, particularly in Ireland, Scotland, Wales, Brittany, Cornwall, and the Isle of Man. Many of the oldest dog breeds come from these areas, including most collies and terriers. Irish and Scottish breeds most often receive Celtic dog names, but any pet can wear a Celtic name with pride.
Dogs are quite common in the mythology of the Celts, some pet owners name their dogs after these ancient hounds while others choose human characters from the stories as namesakes for their pets. Celtic dog names often have Gaelic spellings and unusual pronunciations, so many parents avoid using the Celtic version of a name for their baby to avoid difficulties in school and later in life. Dogs, however, do not have to spell their names for anyone, so an unusual Celtic name can be a great choice. A unique or unusual Celtic dog name is a great way to avoid mix-ups at the vet or confusion at obedience class.
Did you find a name you like?