Cherokee Dog Names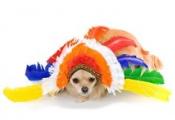 Native Americans often bestow names on their offspring after reflecting on the individual and unlike Western cultures, names are often earned due to the growth of the individual and his or her experiences so their name can change dependent upon these life events. While Native Americans' pets are not named in this same tradition, they too have personalities that reveal to their owner what name may suit them best.
A Terrier or Chihuahua dog is especially adept at hunting squirrels and may be named "Salali" which is Cherokee for "squirrel". Labrador Retrievers are known for being highly active and enjoy running in wide, open spaces or exploring the woods and a suitable Cherokee name for this strong personality could be "Adahy" which means "lives in the woods". English bulldogs are often stubborn but loving companions that enjoy lounging on the couch but make no mistake, they are highly protective of their owner. Bulldogs are known for leaving puddles of drool due to their tongue that hangs out so a fun name for this dog in Cherokee is "Ganvgo" meaning "tongue". Border collies are known for being keenly aware of their surroundings and as work dogs, they thrive on being able to perform for their owners by helping around a ranch or farm. They are quick, alert and reliable as herders of livestock. Name this animated and faithful friend "Degataga" which means "gathering".
Have fun with these Cherokee dog names and bless your wonderful companion with a name that reflects their personality!