French Dog Names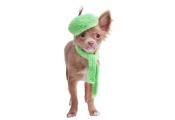 There are many reasons why pet owners consider French dog names for their pets. If you're looking for a French name, perhaps you have a breed of dog that originated in France, such as a Basset Hound, French bulldog, Brittany, Dogue de Bordeaux, Great Pyrenees, Papillion, or Poodle. Perhaps your own ancestors came from France, and you would like to choose a French name for your newest family member. Many other pet owners contemplate French dog names because they think the language is romantic, or because they fell in love with France when they visited the country. Whatever the reason, our website is the ideal place to research names to choose the perfect one for your new pet.
You can filter the names below by gender by clicking on the Male and Female links. You can also click on any name that strikes your fancy to find out what the name means, and you might even see some other dogs there that bear the name! If you're not sure which one you like the best, add it to your Favorites list for future consideration. Take your time and have fun browsing through all of our French dog names. We're sure you'll find the perfect name for your new companion here!
Did you find a name you like?