Scottish Dog Names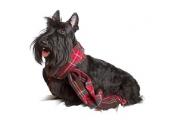 Anyone who's owned a Scottish terrier or closely related breed can attest to how jaunty and feisty they are. The list below offers Scottish dog names, male and female, to make selecting a name for your own new "highlander" both fun and appropriate for the unique canine personality likely to be emerging daily.
FunDogNames.com has done all of the hard work, so just sit back and click on the names in the list for a brief description and sex designation. You can vote for your favorites or mark them as such for future reference, too. Convenient filtering features make it easy to search only for male or female names to save time, though undoubtedly some might just take a little tweak of spelling to be suitable either way.
This site also offers an opportunity to suggest additional Scottish dog names, as well as send in photos of your Scottish canine. If you have had this breed before, chances are you will be happy to peruse suggestions for your latest newcomer but be just as likely to suggest a few favorites from the past.
Finally, when considering these Scottish dog names, many sir or last names populate the list. Be careful to note that the Mac prefix makes the Scottish name distinctive, though it's highly unlikely that your little MacKinnon or Mackenzie will care. Nonetheless, a Scottish name should be reflective of the spirited lass or lassie that has acquired it and is likely to become a most loyal member of any household.