Spanish Dog Names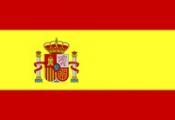 Naming your dog is a very important step in establishing a bond. Choosing the right name is essential, and when it comes to naming, it should be something unique and original, while fitting your puppies character. Choosing a foreign language in which to name your puppy is a great choice - foreign languages provide us with a new database of unique sounds which your dog is more likely to respond to, when it hears its name out of the thousands of English sounds it hears around it every day.
Spanish is a beautiful, flowing language, reminiscent of many different cultures, different lands, sunshine, beaches, and exotic cuisines. Spanish dog names are ideal if you have a Spanish dog breed, such as a Spanish Mastiff, Ibizan Hound, Spanish Water Dog, or a Havanese. Regardless of breed, however, a Spanish name is great for any dog!
Did you find a name you like?