Biblical Dog Names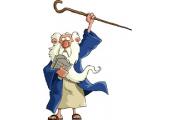 We mean no disrespect by listing these important names as dog names. Names from the Bible have always been popular when naming humans and as it becomes more popular to give pets names similar to humans it is only natural that some of these names will be used. Some people may feel it is be contrary to the Bible to name an animal after someone who is found in the Bible, but others do not feel the same. Dogs are considered to be man's best friend, and often share a majority of a person's life. This includes family time, vacations, going to the park, swimming and many other activities.
Naming a cherished pet after one of these names can be a constant reminder of the Bible, and the fact that God gave dominion of the animals to mankind. These names may invoke memories of some of the passages, stories and lessons found in the Bible and taught to people since their childhood. For those who are not shy about their religious beliefs, an unusual name from this list can be one way to impart a short lesson to strangers who've complimented you on your dog and his or her name. Our list of biblical dog names includes many of the most popular ones, yet we have tried to leave out those that may seem inappropriate.
Did you find a name you like?