Egyptian Dog Names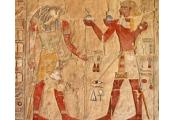 There are many reasons why one might choice Egyptian dog names for their pet. The most obvious would be that the dog breed you have ordinates from the country of Egypt. Breeds such as the Saluki, Pharaoh Hound, Ibizan Hound, Basenji, and even Greyhound are thought to come from Egypt. Other less obvious reasons would be how the Egyptian treated their dogs. They were cared upon and loved so much that even after death, their bodies were preserved and mummified so they could later be buried with their owners. If you've ever seen hieroglyphics in a tomb, you will notice how often dog like images appear on the walls. This is another sign of how much the Egyptians valued their four legged friends.
Or, perhaps, you simply like the way Egyptian names sound. No matter what the reason, here at FunDogNames.com, we have a large list of male and female names to choose from. Users can sort the names based on the gender or simply view all of them. Find a name you like or dislike? Feel free to rate it, we love hearing users feedback. You can also learn more information about the name, such as getting the full meaning behind it, reading what other people think of the name, even viewing pictures of dogs that share the Egyptian name by clicking on the name.
Did you find a name you like?