Greek Dog Names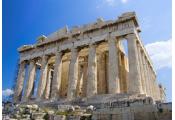 FunDogNames.com is the premier site for all things Greek when it comes to dog names. From legendary names like Aphrodite and Penelope to fun names like Nike, Fun Dog Names has the best Greek dog names around.
While some dog owners remain within the norm of naming their pet a common name like Scratchy or Spanky, many owners like to think outside of the box by giving their dog a name that has meaning. What better place to search for significance than in Greece where theatrical entertainment was born? Although your dog may not be a performer, he or she can carry a name that translates to more than just mere thinking.
Greek names are rooted and grounded in history. Whereas simple names like Buddy and Boo have no substance, Apollo and Zeus speak of ancient times. Although not exclusive to one breed, it is best to give Pitbulls and Rottweilers Greek names since they demonstrate unmatched might compared with other dogs. Dobermans are also great candidates for the Greek touch.