Jamaican Dog Names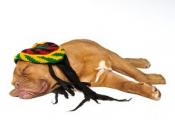 If you do not know what to name your new pet and friend, there is a plethora of fun Jamaican dog names to choose from. One of the most popular Jamaican dog names you could choose, especially if you are a big fan of music, is Marley, after the legendary reggae artist Bob Marley (as well as all of his equally talented sons). Along a similar line is a slew of Rasta names to choose from including Shabba, Cheech, Yabby, and Bredda.
Another group of popular Jamaican dog names take inspiration from the famous Jamaican bobsled team: Sanka, Bevel, Yul, and Tyreese. If your dog is a girl, two of the more popular female Jamaican dog names are Vea and Ariana. Another fun Jamaican name you could opt for is Irie, a Jamaican word with a bright meaning of "All's well". Naming your pet is an important step and as long as you go with what you feel most comfortable with, you can not go wrong.
Did you find a name you like?