Roman Dog Names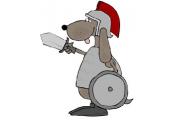 We can help you find a name that perfectly suits the personality and appearance of your canine companion. Roman dog names represent some of the most interesting characters from history, literature, mythology and legend, with meanings and symbolism that have carried through the centuries. Perhaps your pooch has the powerful spirit of a Titan, the noble stroll of a Caesar, the loyal heart of a Fido or the goddess disposition of a Venus.
Whether you choose a name inspired by the size, color, attitude or breed history and reputation of your furry pal, we have an extensive collection of male and female Roman dog names to consider. Browse through the list of possibilities to find the one that seems custom made for your cute fuzzball or stout tough guy, your laid back lap dog or your high energy athlete.
Click on each name from Rome to see its full meaning, characters it has been associated with and recommended breeds to use it for. You can also rate all of the name suggestions at our site, save your favorites for later consideration, view information for new dog owners and see our tips for deciding on the best name for your best friend.