Small Dog Names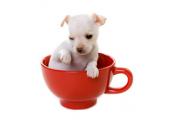 Nothing beats a new family member with a wagging tail; and when naming one destined to remain under 20 pounds fully grown, this is the place to be. With oodles of small dog names to choose from, it's fun and fast to find the perfect one!
When a little dog comes to stay, it's usually apparent early on that he or she may feel anything but small. With a personality often larger than life, consider their personality when choosing a name. The list below offers suggestions that can be clicked for information about the full meaning and typical breed designations. Vote for your favorite small dog names or mark them for future reference.
Male and female names can also be filtered so that a "she" does not wind up being confused with a "him"" for life. That can happen easily when selecting a great sounding name derived from a foreign language, often favored for small breeds with ancestry originating in Mexico or Europe.
If originality is your goal, you might not want your tiny pooch sharing a common name, opting instead for something less prevalent in today's canine world. All the same, what's in a name for a little dog might be more critical than for a larger one. Best to get it right the first time around, so that while small in stature, he or she will have the perfect name to match whats inside!