Welsh Dog Names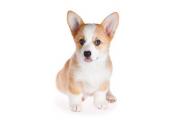 Welsh dog names are especially popular for breeds that originated in Wales, a country in the British Isles located to the south of England. Cardigan Welsh Corgis very often receive Welsh dog names, as do Sealyham and Welsh Terriers. However, Welsh dog names can be used for any breed of mutt irregardless of heritage.
Many people like Welsh baby names because they use unusual vowels and spellings of somewhat familiar names. Dogs will never have to spell their names for substitute teachers, so unusual Welsh spellings can be even more fun for dog owners. Most Welsh dog names are unusual enough that you won't find half the dogs at the dog park with the same name, even if some names sound similar.
Some Welsh dog names are taken from mythology, while others have simple meanings that refer to colors, places, and various traits. Whether you had ancestors in Wales, have a Welsh breed of dog, or just want a name that sounds like it belongs to a fairy creature, there are some wonderful Welsh dog names to choose from.