American Dog Names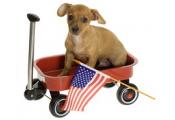 So what's an American dog name anyway? Really, it's whatever you want it to be. But certain names have a little bit more of a classic all-American feel than others. If you want a dog name that's as American as apple pie or stickball, you've come to the right place. FunDogNames.com makes it easy to find a name for your new pet that both of you will love.
For instance, let's take Bruce. It's a name that's tough, sturdy and courageous -- just like your All-American mutt. The name "Buddy" immediately brings images of man's best friend... in a baseball cap and dungarees begging you for a game of fetch. And what's more American than "Diva." Perfect name for a dog who demands the best and nothing less. Aretha, Whitney, Mariah and Celine would be proud. And you probably can't get anymore American than Lassie.
You'll find pages of American dog names to choose from in this category. Everything from A for Ariana to Z for Zack. Besides the American Dog Names section, you can also search for names that might work for your pet by his breed, gender or origin. So give your new soon-to-be-named canine a treat, sit down with a nice hot cup of coffee and start browsing through the great suggestions in this section.