Eskimo Dog Names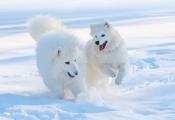 These beautiful, white furry bundles of energy did not have their start in Alaska among the Eskimo people, but they were bred in Germany from the Spitz family of dogs. They are derived from the bloodline of dogs from the coldest parts of northern Europe. Names for the breed today include German Spitz and American Spitz, but in the United States after World War I such prejudices existed against Germany that the name of this breed of dog in America was changed to American Eskimo.
The Eskimo Dog is a happy breed that needs daily exercise and something to challenge its active mind. The American Eskimo are bred in three sizes, toy to medium sized dogs. They make great pets for families with older children. Still, they were bred as companion dogs and are excellent companions for adults if exercised. They are exuberant to go on long walks with their people, and then to cuddle together.
When selecting the perfect name for the pet Eskimo Dog, people should keep in mind their interests and the impressions they have of the dog's personality to find a name that "fits." Here are some examples of great names for Eskimo Dogs:
For Males
Bullet
Dynamo
Skyler
Snowball
Turbo
For Females
Annabelle
Muffy
Snowy
Sparkles
Tickles
Many other fine names are available in the data base. Picking a pet's name can be pure pleasure! People should relax and take their time when choosing one.